While most of you probably are not aware of my site troubles, I think I have finally made it easier on myself!
I have had a personal website for a decently long time, probably around 12 or 13 years. I have gone through a range of hosting services, from Tripod, Hosting24, ChangeIP, and now CloudFlare, as well as a number of ways my site has been set up, from free subdomains with a domain builder, cPanel, self hosted on a beagleboard, my old laptop, and now… Amazon Web Services.
What exactly is AWS? The short version is that almost every large company uses AWS for control over their cloud managed machines. Auto scaling, load balancing, giant computing clusters, you name it – the AWS platform has something to offer for it. I have grown to have a lot of experience with it in my current position, and while it may be a bit pricey you certainly get what you pay for.
I bring this up because my previous website was running on an old laptop which would frequently cut out, turn off, or disconnect from the internet. I tried many times to get the configuration and files off of that laptop into my new Amazon machine instance, but there was something rigged about that site and it would never work. I was basically locked into a crappy computer and a website that could not be updated with new security fixes, enhancements, or features. I was using a developer application called MAMP to run my website! It was a mess, and it certainly was not fun. Below is a picture of my setup: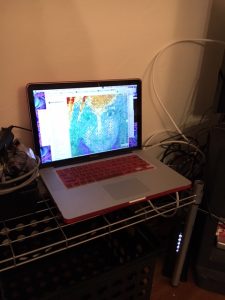 I decided to finally foot the bill and upgrade my website, the machine it was running on, and the whole look and feel of it. If you look at the top, I also have an SSL certificate which allows me to use `https` instead of plain old http, which ensures that the site you are connected to is truly mine. While there is still a ways to go in order to get my Shop back online and running, at least everything is back in its place.
I now have the power of backups, scaling, load balancing, resizing my machine, security updates, the ability to update and properly manage my site, and all of the other AWS benefits without the hassle of ensuring my laptop is plugged into my home internet, or that my IP Address hasn't changed and my site goes down. I hope this marks the end of the continual site instability I have been having from probably the past couple of years, and I can focus more on bettering the world around me.