My first ever gallery is live in Leesburg, VA!

I'm super excited to be apart of my first gallery showing, it's been a long time coming and this past year has flown by in order to turn this into a reality. Let me break the process down and explain how it all came about!
It all starts with my lovely wife, who took the time to submit my work to the Loudoun County Art Advisory Committee for a gallery exhibit earlier this year. I am not sure when this took place but let's assume it was early in 2021.
In late April I received an email from the Committee, asking if I was open to an opportunity they had in the later part of the year to showcase my work. This came as a total surprise to me, as I had no idea I was even in the running to be apart of the showcase. After piecing the two together and realizing what happened, I was super excited and of course said yes to the opportunity.
As we went back and forth via email in the spring, I got a sense of the dimensions of the gallery and needed to come up with how I wanted to showcase my work. It was at this point I realized that I had not created a new drawing in nearly 4 years! I decided I needed to show a brand new piece and simultaneously began working both on the gallery exhibit, and the new piece which would later be named "Disintegration." This post will not dig deeper into how that piece was made, but you can read all about it here.
My primary focus on the gallery was to showcase my favorite works. I had two walls to work with so I decided to dig out some of my CAD skills and build a 3D model of the room and how the pieces were going to lay out.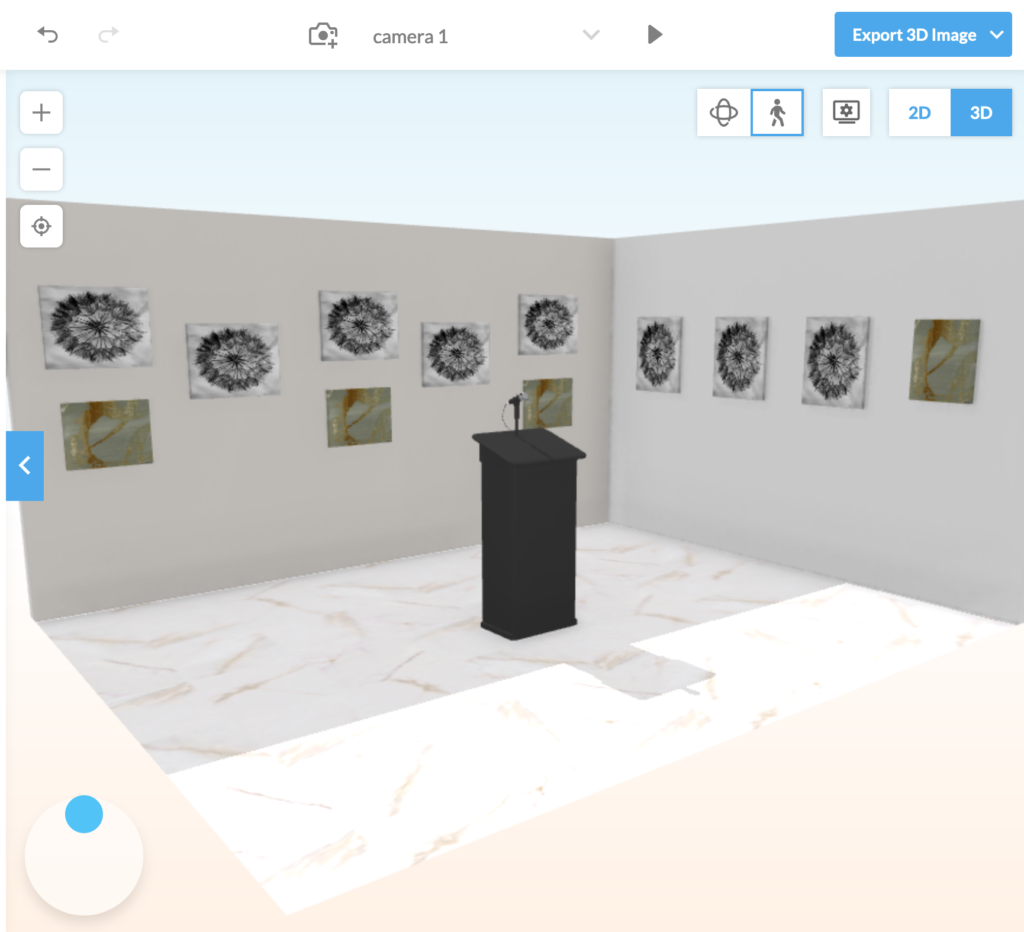 The above picture is my rendering of the space. In looking through my collection, I decided on the following layout:
* 8 large pieces – all original
* 4 prints of various digitally enhanced works (my favorites)
This would breakdown further on each wall, where everything that was oriented in portrait mode would hang on the the right wall, and everything that was landscape would be on the left wall. In the picture, the four smaller prints (colored like faded gold/teal) would compliment the 8 larger original works (colored in black/white).
As the date drew near and everything was finalized, I needed frames. Looking high and low in your typical places like Michael's didn't yield anything for the wonky size my artwork seems to be. The two different sets I needed were 16×20″ and 19×24″, but I had no ability find frames in both sizes! Luckily, I found an awesome website called Frame It Easy, I was able to order all the custom sizes I needed and all the frames arrived at my house intact.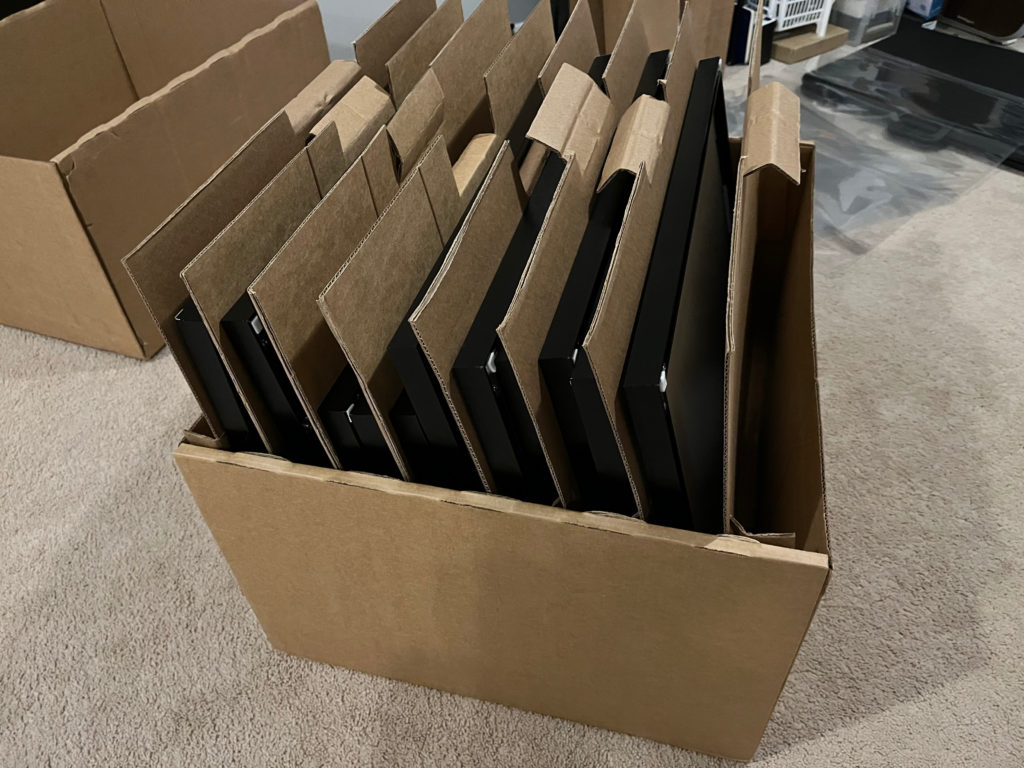 With everything framed and ready to be loaded into my car, all that was left was the bio page that anyone can read if they visit the gallery.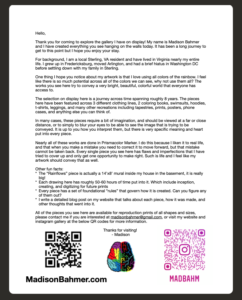 You're going to have to visit the gallery in person to read what it says! But, it has links to this website, my Instagram, and the vision behind what is being shown in the gallery.
Last but not least, when the big day arrived in mid November, I was able to hang everything up with ease and the rest is now history!
I would like to formally thank Janine, Elizabeth, Joyce, and the rest of the Art Committee for giving me this opportunity to showcase my work. There has been a lot of communication back and forth, planning, and small details that have helped turn this into a reality and I am thrilled to be able to showcase everything over these next months.
So why is this gallery named "Opalescent Brain"? It is a play on the multicolored pieces on display and a reflection of the brain that created it. I have been using a multicolored yin-yang brain as an informal trademark for years and I think this title fits perfectly. My saying is always that "Your eyes can see all the colors of the rainbow, why not use them all in my artwork?" I feel like the many colors of opal help convey this idea, and am happy with how it fits into everything.
Gallery Details:
The gallery officially runs from Nov 17th to the end of December
It is housed in Gallery 1 at the Loudoun County Government Center
The gallery is open form 8:30-5pm M-F
It is free for all to attend
Finally, here are some pictures turning it into a reality.